Steps
1. Click here to go to our Trialpay offer page.



2. Select an offer from the merchant list, and a pop window will show an offer summary.



3. Review the offer summary and then Click the Continue button, and a new Internet browser window tab will open to the offer page. 

4. Depending on the offer details, you may be able to Signup or Try or Buy as instructed on the offer page.  Almost always, you need to be a new customer.
5. At one point you may be required to submit contact information to complete this Trialpay offer. Follow directions and enter the same email address you will use for your service with us, and indicate your name, and remove the check box to not get emailed solicitation from outside of WHW1.  Press Continue button.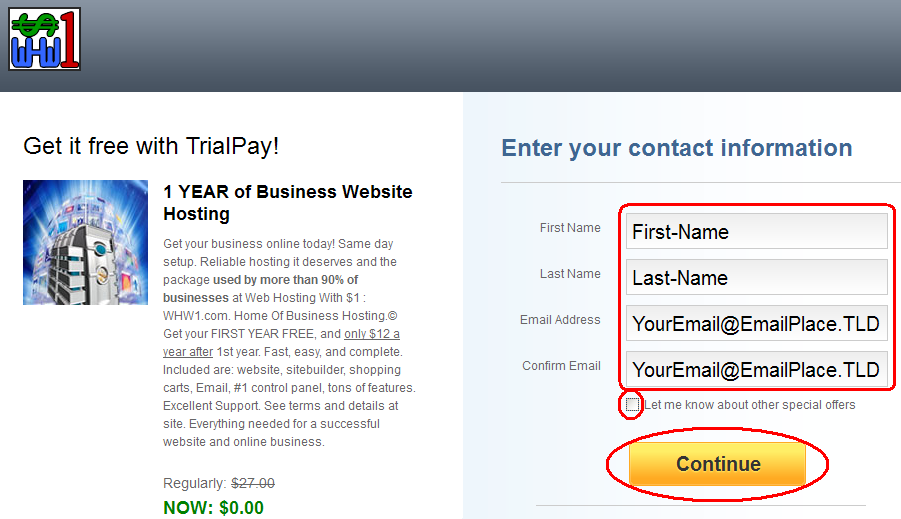 6. Then go back to the previous Internet browser tab, and select the green Yes for "Check Offer Status" (Important).




Most offers cause instant credit to be given.


7. Wait for us to contact you.  Same day you will be contacted by us via email and/or phone to complete your hosting account setup.

8. After contact established and additional information collected, same day you will get an email from us providing your new hosting package login information and links, and our thanks. :)
Congratulations!


Things Clients LOVE About Our Hosting Services
Domain registration and Web Hosting (website, email, storage, databses, folders, ftp, etc.) are two completely separate things. 
Keep your domain name(s) registered anywhere you want or have us do the work for free and register one for you.  Get better hosting for less with Web Hosting With $1 (WHW1).  No other provider has ever been able to beat WHW1's low price and quality combination!
Enjoy year after year excellent service while you save.  The best quality and lowest priced website hosting that is full featured and full service.  No ads.  No tricks.  Great service.  The $1/mnth web hosting cost is our normal price, and not a limited special.  We are the ONLY true $1 hosting company on the planet for this kind of quality and reliability since 2003!  A USA company, data centers, servers, and IPAs. 
Includes free site installs, websites, emails, databases, folder sharing, online password protecting, security, spam filtering, webmail, POP, IMAP, PHP, CGI, SSI, 99.9% uptime, easy to use #1 award winning control panel and a lot more.  Everything you need for a blog, business website, online business with free best quality shopping carts, online stores, and much more.  Unlike with others website builders and softwares, with Web Hosting With $1 (WHW1), YOU WILL OWN YOUR CONTENT AND SITE AND YOU CAN MOVE IT ANYWHERE AT ANYTIME AND IT WILL WORK.  WE WILL NOT MAKE YOU A HOSTAGE like most other hosting companies and domain registrars do.  We are that confident of our high quality and reliable hosting services. 
Click here to order now or use TrialPay offer described above to get free hosting.
Web hosting With $1 (WHW1) provides one of the BEST HOSTING on the planet.
Our quality and reliability is one of the best, while providing you low cost, and full features and full service. 
WHW1 hosting for your website contents, file sharing, ftp access, emails, databases, mailing campaigns, ecommerce, and much more with free instant website Sitebuilder wizard, WordPress, Joomla, Concrete5, Drupal, Prestashop installations, and updates.

EVERYTHING YOU NEED in a hosting package.

CLASS A+ Grade Business Hosting.

99.9% Uptime Guarantee.

FREE access to easy to use point & click Site Builder Wizard.
EXCELLENT support all the time, every time (24/7).
EASY to use full featured Administrator Control Panel.
Business A+ Grade Email. FREE SPAM filtering.
EASY online Folder sharing and password protection.
SSL, FTP, Visitor Info, Disk Usage data, more, more, more.
FREE installation of popular software (almost 100). Look below.
MySQL, PHP, CGI, Perl, Ruby; much more.
FREE Website Template & FREE website installs.
FREE SSL Certificate usage

– no https warning messages!

FREE Fast Easy online Video Tutorials.
FREE move of your website from other providers.
FREE built-in editors: webpage, html, cgi, code, text.
FREE host domain name.
Advanced Hosting Setup, instead of normal setups.